Right2Vote won the Asia Pacific final of Tech4Democracy Global Entrepreneurship Challenge
---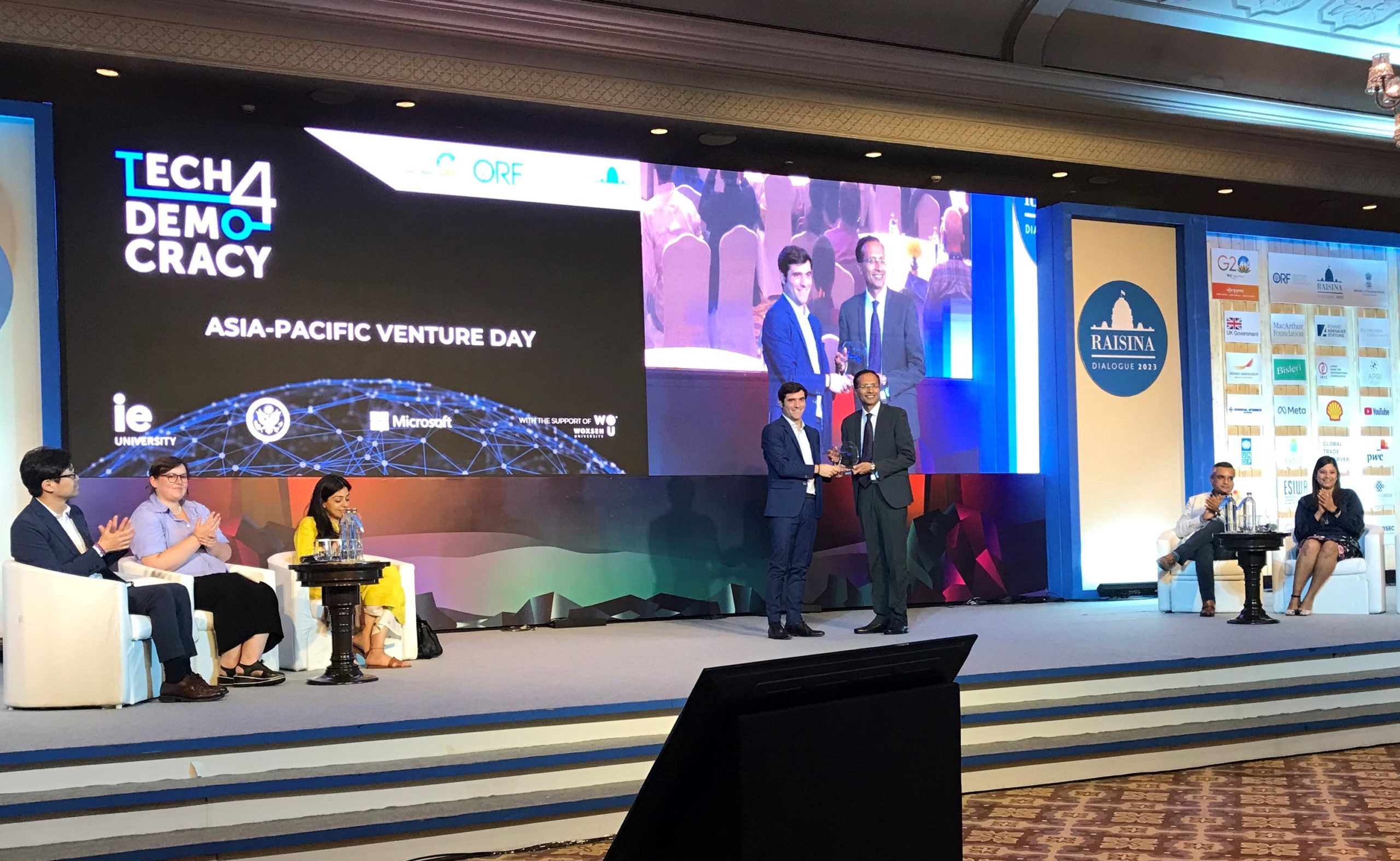 Right2Vote won the coveted title of the best startup in Asia Pacific region at the Tech4Democracy venture day. Right2Vote is India based online election management company. Right2Vote provide online election management service to governments, corporates, associations, colleges, clubs, residential societies, unions, NGOs and others. Right2Vote's online voting technology is tested, certified and approved by Standardization Testing and Quality Certification (STQC) directorate under Ministry of Electronics and Information Technology (MeitY) and also approved by Ministry of Corporate Affairs (MCA), government of India. 
The other four finalists that pitched their innovations were Ringaze (Nepal), SafeToOpen (New Zealand), Smile (Singapore) and Suarise (Indonesia). All finalists will receive up to 150.000 USD in Microsoft cloud credits, free productivity software and GitHub Enterprise access and mentoring from business and technical experts.
Tech4Democracy is an initiative of IE University in partnership with Microsoft, US Department of State and Observer Research Foundation (ORF). Tech4Democracy is A Global Entrepreneurship Challenge to identify entrepreneurs developing innovative digital technologies that contribute to the advancement of democracy around the globe. The Challenge is composed of five Venture Day competitions in five continents: Africa, Asia-Pacific, Europe, North America, and South America. Entrepreneurs are evaluated based on their contribution to democratic values, technological innovation, viability/scalability and interest for potential investors, and the experience, knowledge, skills, and diversity of their teams.
Right2Vote, represented by the founder, Neeraj Gutgutia impressed everybody with the technological innovations. Jury agreed that Right2Vote's online voting technology can be game changer for the way elections are managed across the world. The company has filed 7 patents and can manage 1600 different kind of elections on their platform. Platform features like Aadhaar based biometric authentication, voter selfie, secret ballot, audit trail, two factor authentication, voter receipt, end to end encryption established that the platform is not only secured but also very transparent. Right2Vote is also unique because it can handle the most complex election types including Single Transferable Preference Voting (STPV) used in elections of President of India, Institute of Chartered Accountants of India and Bar council. Right2Vote's election technology helps not only in increasing the voter turnout substantially but also saves more than 90% cost, 90% time and 99% of human effort. The system is 100% secure and result counting is automatic and instant. 
Judges were also impressed that Right2Vote is a profit-making startup with clear focus on cash flows. When most of the tech startups are bleeding money and finding it difficult to survive, Right2Vote is not only cash flow positive but also completely bootstrapped and has not raised a single rupee from any investor. Right2Vote is on a clear road to scalability as they are managing more than 2000 elections every year with marquee client list which includes names like International Solar Alliance (ISA), PwC, E&Y, KPMG, Tata Housing, Godrej Properties, Lions Club International, Rotary Club, YMCA New Delhi, IIT Delhi Alumni Association, Goa Institute of Management, Screenwriters Association, UP State Power Sector Employees Trust.
The jury was composed of a diverse group of experts, leading members of the investor community in Asia, top academics, and former government officials and executives, such as Gabby Bush, Centre for AI and Digital Ethics, University of Melbourne (Australia); Ko Fujii, Founder and CEO, Makaira (Japan); Vrinda Kapoor, CEO and Co-Founder of 3rdiTech (India); Nayani Nasa, Innovation Specialist at Microsoft India; Gautam Saxena, Founder and Managing Partner at Pegasus 7 Ventures (Singapore) and Priya Shah, General Partner at Theia Ventures (India).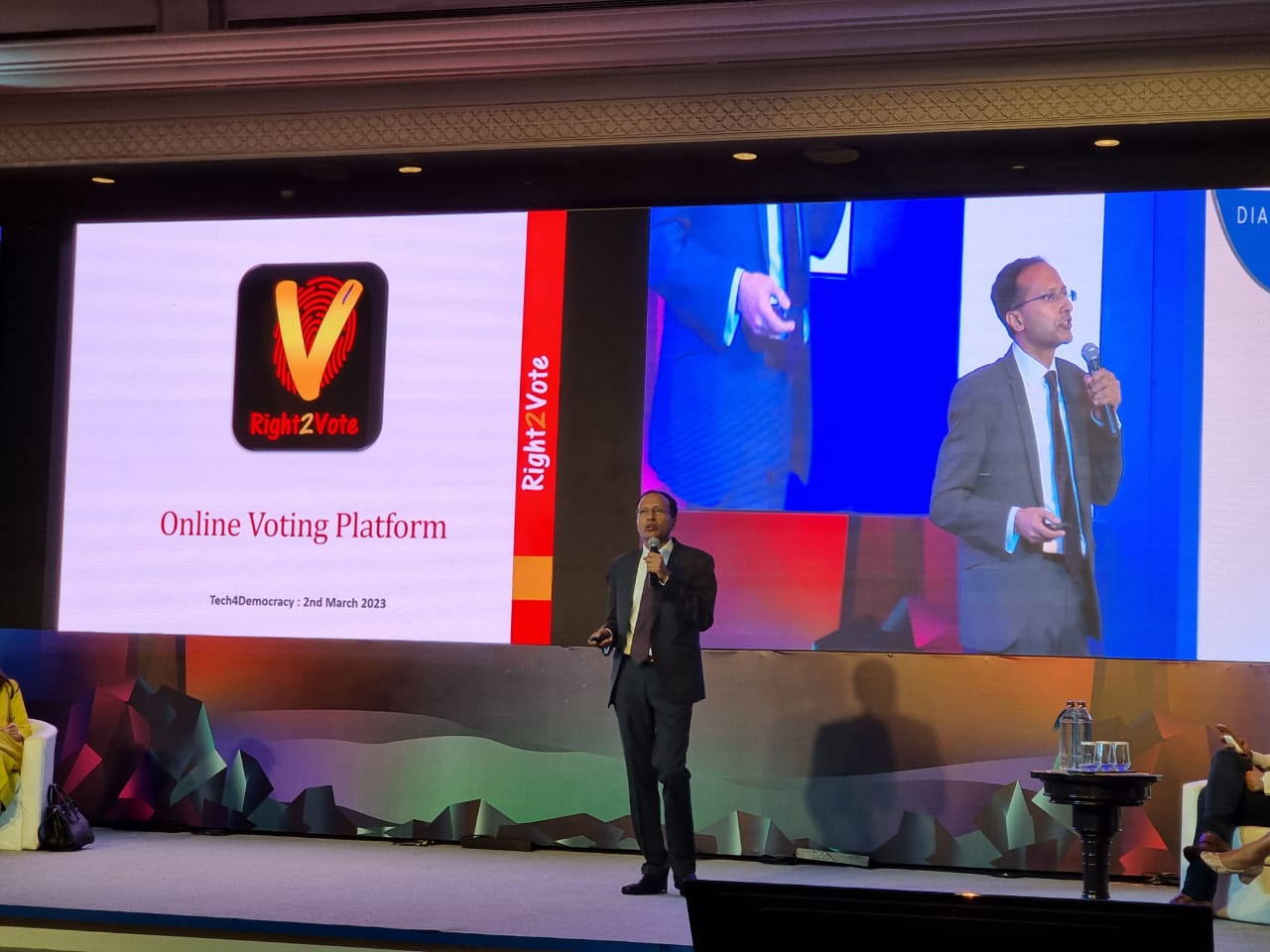 Tech4Democracy Asia Pacific Venture day was held at Taj palace, New Delhi on 2nd March 2023 along with Raisina Dialogue 2023 and G20. Raisina Dialogue is India's flagship conference on geopolitics and geoeconomics and was inaugurated by Italian Prime Minister Giorgia Meloni and Indian Prime Minister Shri Narendra Modi. The event counted the participation of Anirban Sarma, Chair of the T20 Task Force at ORF, who stated that "Promoting start-ups and innovation has been an important part of the G20 since 2018".
By winning the Asia Pacific final, Right2Vote has now qualified for the global final of the challenge which would be held in Washington DC, USA in the last week of March along with The Summit for Democracy. President Biden will co-host the Summit for Democracy with the governments of Costa Rica, the Netherlands, Republic of Korea, and Republic of Zambia. All the winners of the 5 continental Venture Days (Europe, South America, North America, APAC and Africa) will compete for a monetary prize.