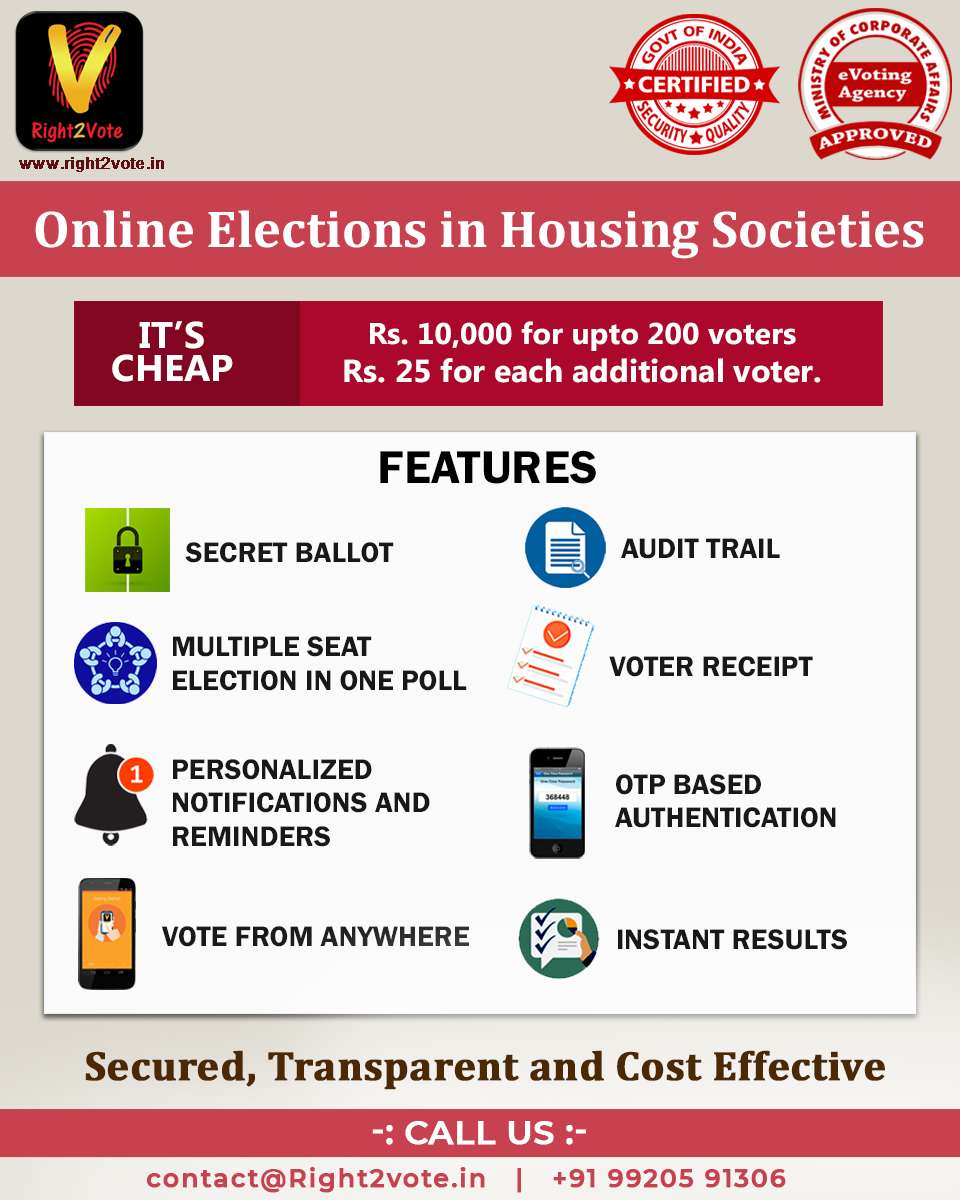 There are more than 10 lakh cooperative housing societies in India. It is referred to by several names including Cooperative Housing Societies (CHS) / Association of Residents (AOR) / Association of Homeowners (AOH) / Apartment owners Association (AOA) / Housing Society / Resident's Welfare Association (RWA) etc. There might be small difference between incorporation structure of these housing societies but more or less it is very similar. These housing societies are managed by members who are democratically elected at regular intervals. Each society is supposed to hold its elections every 1-3 years depending on the state and the governing Cooperative Society Act.
Challenges faced by societies
The cooperative housing society face several challenges in its management which include:
Lack of full-time members in management committee
Limited funds of the society and varying financial capacity of members to contribute
Difference of opinion and infighting among members
Vested interests trying to control the management committee
Litigation with builder, members and third parties related to title and other aspects
Right2Vote's online voting platform for cooperative housing societies
Certified and Approved by Government of India
Right2Vote Infotech Private Limited is a government of India approved eVoting platform. Right2Vote is tested and certified by Standardization Testing and Quality Certification Directorate (STQC) under Ministry of Electronics and Information technology (MeitY), Government of India.
Right2Vote is also approved eVoting agency by Ministry of Corporate Affairs (MCA), Government of India.
Link to relevant certificates: Government Approval and Certificates
Experience of managing elections across the country
Right2Vote has successfully conducted elections for several housing societies across the country. It includes:
Tata Ariana, Bhubaneswar, Orrisa
Godrej Prakriti, Godrej properties limited, Kolkata
Kolkata Uniworld City Apartment Owners'Association, Kolkata
South City Apartment Owners Association, Kolkata
Iris Court Mahindra World City, Chennai, Tamil Nadu
Casagrand Aristo Owners Welfare Association, Tamil Nadu
Estancia Flat Owners Association, Tamil Nadu
IRIS Court Flat Owners Association, Tamil Nadu, Chengalpattu
Jains Saagarika Apartment Owner's Association, Chennai, Tamil Nadu
Embassy Pristine Apartment Owners Assocation, , Bangalore
Prestige Ozone Home Owners' Welfare Association, Bangalore
Bren Edge Waters Apartment Owners Association, Bangalore, Karnataka
Spectra Palmwoods Apartment Owners Welfare Association, Bangalore
Springfields Welfare Association, Bangalore, Karnataka
Golf Avenue Welfare Association, Gurgaon, Haryana
Sare Grand Welfare Association, Gurgaon, Haryana
Kings Avenue Residents Welfare Association, Dehradun
Residency Apartment Owners Association
Sai Peace and Prosperity Apartment Buyers Association, Kottivakkam, Kerela
HiRise PVR Owners Welfare Association, Hyderabad, Telangana
Apex Association of Lavasa Property Owners, Maharashtra
Skyvillas, Pune, Maharashtra
Earth Copia Owners Society, Delhi
Luxuria Estate, Aditya World City, Ghaziabad, Uttar Pradesh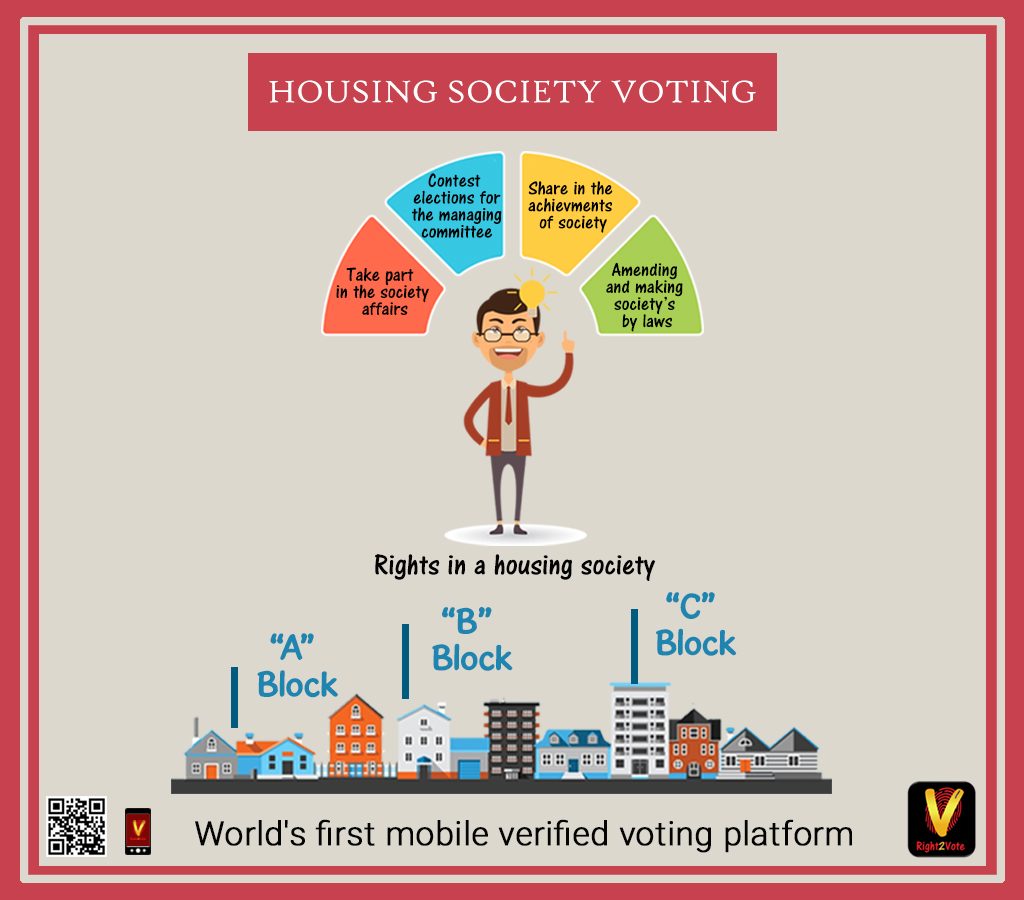 Feature rich online voting platform
Right2Vote's online voting website and app is very feature rich and can be customized to specific requirements of the society.
Different societies have different election rules for example tower wise voting, voting on panel, specific post-election or full committee election. Right2Vote has solution for all kind of election.
Most housing societies find these features very useful:
Secret ballot
Audit Trail
Voter receipt
Result post poll close
Team election
Multiple post in single poll
Candidate picture on the ballot
Security features include:
End to end encryption
OTP based authentication
Two factor authentication
Voter selfie
IP address, time of voting, geo-tagging
The platform is very user friendly. Ease of use features include:
Option to vote form website, mobile and app (android and iOS)
OTP based login
Individual personalized invite and reminders
Voting from anywhere in less than a minute
Automated counting and instant result in PDF and excel format
Link to feature list - Features
Charges
Right2Vote eVoting software is also very cost effective. The charges starts from Rs. 10,000 only for up to 200 voters, plus Rs. 25 for each voter above 200 voters. Please contact Right2Vote team at Contact@right2vote.in for more details.
Use cases
The Right2Vote's online voting solution specializes in election management but it is also very useful for:
Voting on resolutions in Annual General Meeting (AGM)
Voting on other resolutions in Extra-ordinary General Meeting (EGM) and monthly meetings
Voting in cases of disagreements and disputes
Frequently asked questions
Is online voting allowed as per Indian laws/ state laws?

As per model bylaws provided in Cooperative housing society Act which has been adopted by most states, voting is compulsory at regular intervals. It does not mention whether voting needs to be via paper or online. Hence both the methods are permitted and there is no restriction on paper or online voting.

Many states including Maharashtra have specifically advised housing societies to opt for online voting to ensure that homeowners who are not resident in the society are also able to vote. Also, due to COVID and social distancing requirements, most governments and cooperative commissions are asking housing society managements to opt for online voting.

The State Cooperative Election Authority (SCEA) of Maharashtra has also approved fund to create eVoting website for Housing society election. Recently the West Bengal high court ruled that online voting in housing societies is allowed through the Government of India approved eVoting agencies.

The Government of India recognizes online voting as an important empowerment tool and has made it mandatory under certain Acts including The Companies Act. Government has made it mandatory for companies to provide online voting options to shareholders to empower small shareholders. The Government of India has also recognized Right2Vote as the approved online voting agency.

Housing societies are regulated by central government or state government?

Cooperative society is a state subject. Housing societies come under regulation of respective state governments. Most state governments have created a cooperative commission to regulate the cooperatives. Most state governments have adopted the model Cooperative Housing Society Act which is more or less similar.

What is the meaning of voting in person'?

Most of the standard bye laws of the housing society provides that voter need to vote in person'. This means that the voter is not allowed to vote via proxy. Vote in person' should not be confused with paper voting at booth. The requirement is that voter should vote himself and not allow anybody else to vote on his behalf. If the voter votes himself via mobile or computer, that also is vote in person'.

Is voting by post allowed?

Most of the model bylaws allows vote via post also. This means the makers of model bylaws wanted to ensure right to vote to voters who are not resident in the society. This shows remote voting was always allowed and the objective was to ensure maximum participation.

What is Secret ballot?

Most bylaws provide for secret ballot. This is to avoid any kind of coercion. Secret Ballot means that individual voters vote preference is not known to anybody including the election committee. The election committee only gets the vote count of each candidate.