Every company or corporate has lot of stakeholders and shareholders are just one of them. Companies need to take care of interest of all the stakeholders to ensure amity and growth. To ensure all stakeholders get a say in the management of the company, the company needs to regularly interact with these stakeholders and gather opinion of these stakeholders. Right2Vote's online polling technology is customized to meet this need of the company. The online polling platform can be used for all stakeholder interaction.
Shareholder voting
Ministry of Corporate Affairs (MCA) and Securities and Exchange Board of India (SEBI) has made it mandatory for listed companies to provide eVoting facility to its shareholders for the Annual General Meeting (AGM) and Extraordinary General Body Meeting (EGB). Detailed regulation is available here.
Right2Vote's eVoting website has been approved by MCA and SEBI for shareholder voting. Certificates are available here.
Right2Vote's eVoting platform is a very user friendly, secured and scalable platform to manage large shareholder voting. OTP based secure and convenient login feature helps increasing voter turnout substantially. Right2Vote also provides eAGM (Electronic AGM) or Video conference facility for AGMs and EGMs.
Creditors voting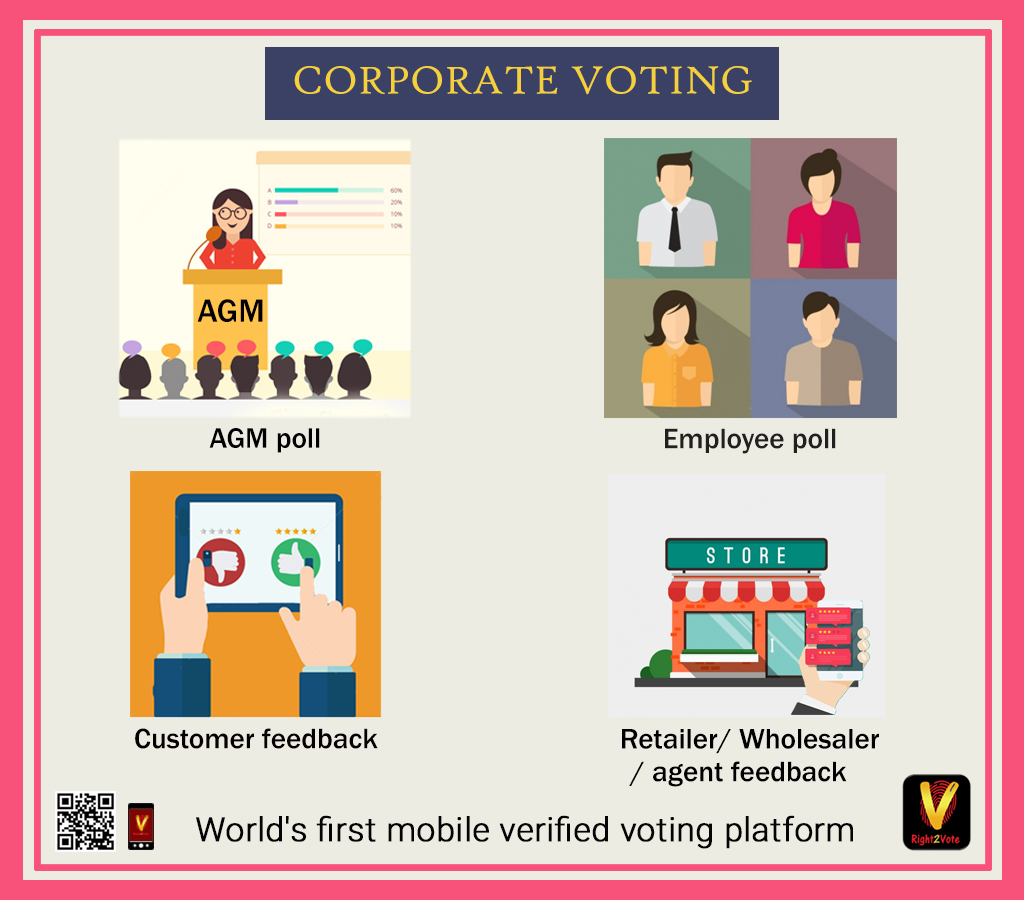 Companies has various category of creditors including secured creditors, unsecured creditors, operational creditors, Project finance creditors, working capital creditors. The loan documents and regulations require the company to take approval from these creditors from time to time before taking certain decisions. Calling meetings of these creditors are tedious task and generally many bankers are unable to make it to many such meetings. Collecting their opinions via emails requires lot of follow up and is very inefficient.
Right2Vote' eVoting platform with features like weighted votes, audit trail, send reminders, extend time helps in taking these approvals from bankers in a structured and efficient manner. Bankers are also able to participate in decision making sitting in their offices and get a proper record of their action in form of voter receipt. The result from Right2Vote system provides a detailed audit trail for record purpose. Right2Vote eVoting technology not only make the process fast and efficient but also very transparent.
For companies under insolvency, IBBI (Insolvency and Bankruptcy Board of India) has made providing online voting option to creditors compulsory. Right2Vote provides platform for eVoting under IBC (Insolvency and Bankruptcy Code). For more details about eVoting under IBC, click here.
Voting in board meeting
As per The Companies Act, all companies, big or small, need to hold regular board meetings and all key decisions are made and approved in these meetings. Generally, board members are highflyers and getting them into one room for a meeting is very difficult. Also, with multinational companies, multiple location offices, work from home (WFH), online meetings, it has become even more challenging to manage these board meetings. Online voting platform of Right2Vote is perfect solution for this challenge. The platform helps to get the resolutions voted in board meetings in a structured manner and also provide a proper record of the same for future audit. Board members can join meeting over video conference from anywhere in the world and vote on the Right2Vote's eVoting platform. Right2Vote also provides secured video conferencing facility for board meeting and AGMs.
Specific committee voting
Companies has various committees which are entrusted with specific task. Examples of committees are audit committees, finance committee, regulatory committee, employee's welfare committee etc. These committees have regular meetings where they take specific decision. Right2Vote's online voting software with customizable polling facility helps the committees to take decisions in a more structured and transparent manner and also helps in keeping record for audit purposes.
Employee voting
Employees are one of the most important stakeholders in any organization. Companies need to conduct polls and collect opinion from employees for various regulatory, administrative, and social reasons. Right2Vote has a very flexible and customizable software for all such polls. Companies need to collect opinion from all the employees and at times from specific sections of the employees. These include:
Employee union elections
Employee association's voting on resolutions
Employee poll by HR department for opinion or feedback on various services and policies
Polls for various contests and competitions
Departmental polls
Specific employee subset or section poll based on demographics like age / gender / location / level
Right2Vote's polling platform has optional features like secret ballot, audit trail, live results, weighted votes etc which help the company to customize polls to specific needs. Polls on Right2Vote platform is quick, accurate, efficient, transparent, and engaging. This leads to higher participation and better results.
Customer feedback poll
For any organization customer is one of the most important stakeholders as ultimately organization exists to serve the customers. To understand the customer and his needs better a structured and pointed feedback system is required. Anecdotal and second-hand data helps but it also has risk of being biased and inaccurate. Hence, all organizations invest a lot to connect and communicate directly with the customers. Social media platforms help in direct communication, but they give lot of garbage data and its very difficult to dig out useful information from that in efficient manner.
Right2Vote's online polling platform provides a perfect and customizable platform for very objective, structured, efficient interaction with the customers. Companies can ask pointed questions to its customers and can get objective response from them. The data comes in structured excel format with can be used for detailed analytics. Objective and structured communication can substantially help companies to improve their product and services.
Poll among vendors, agents, dealers, retailers and wholesalers
Apart from shareholders, employees and customers, the company has many other important stakeholders including vendors, agents, dealers, retailers and wholesalers.
Companies regularly need to collect feedbacks, opinions, and comments from these stakeholders as they are on the ground and in touch with the final customers. Their feedback, opinion and comments are very important for the company to improve their products and services. However, collecting these feedbacks in a structured and unbiased form is very difficult. Right2Vote's online polling platform helps organizations collect these feedbacks, opinions, and comments in a structured and efficient manner devoid of any bias.
Contests and awards
Companies regularly comes out with contests and awards for employees, vendors, retailers and other stakeholders. Managing these contests and rewards in an unbiased and transparent manner is difficult. Right2Vote's online polling platform allows companies to manage these contests and awards in democratic and transparent manner. This not only improves faith in the awards but also increases engagement.
Trade association voting
Every industry has trade associations with the objective of sharing knowledge, forming mutually agreeable and self-regulating policies, for representing in front of regulators and to protect common interests. These associations are managed by elected representatives from among the members. These associations require online voting platform to manage these elections and also for voting on various resolutions from time to time.
Right2Vote's online voting platform is a perfect platform for association elections and voting on resolutions. It provides many customizable features to meet all kind of requirements of an association and is also very efficient. It substantially increases member participation and is very transparent which eliminates chances of conflicts among members. To know more about association voting, click here.