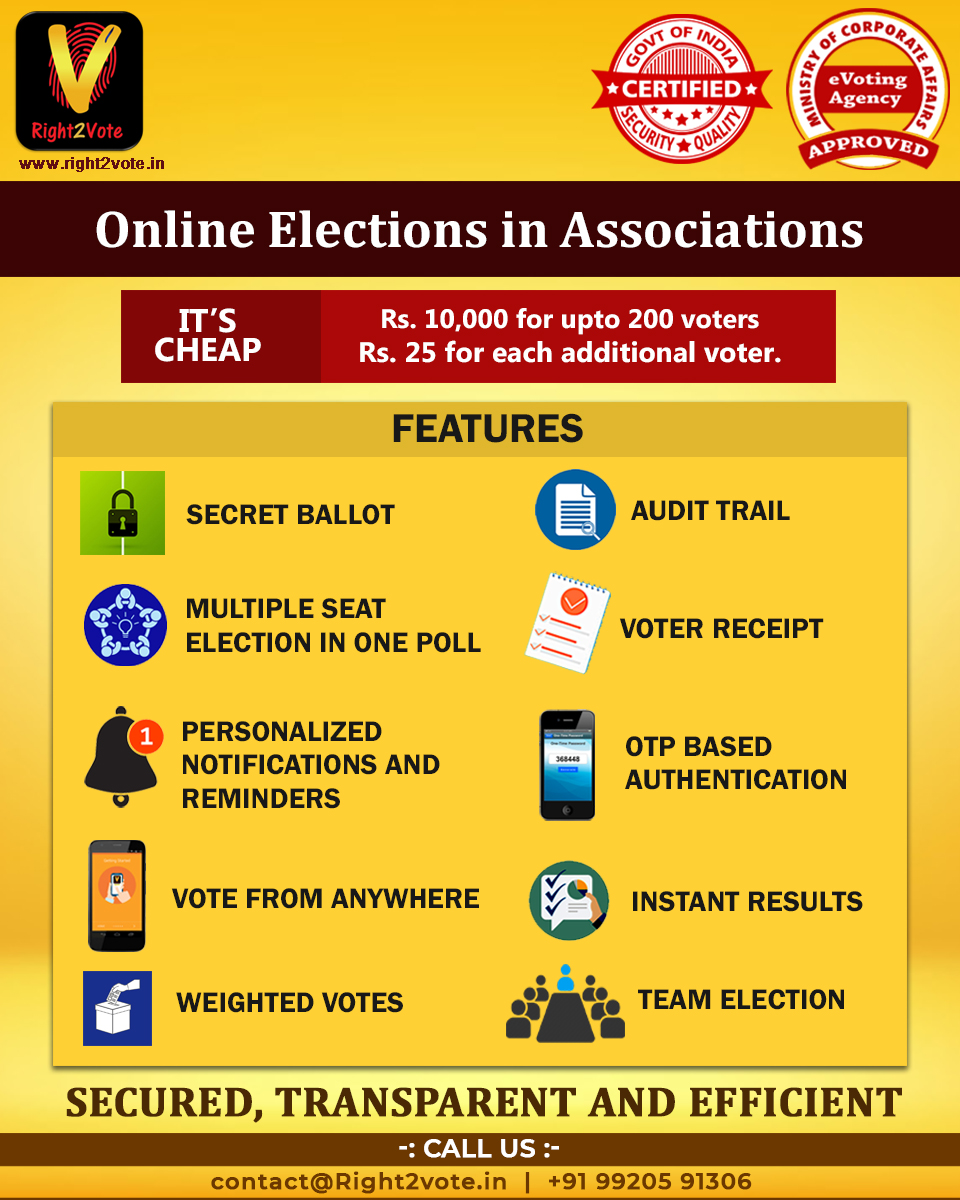 Every trade and profession have a member elected body which represent the members and regulate the trade and profession. These elected bodies take care of the interest of its members and also try to have some rules and regulations for its members. These bodies also form the lobby group which represent all the members of the trade and profession in one voice in front of government and other regulators.
Associations are of following type:
Professional Associations - These are association of professionals who come together and form an association to regulate the members and to protect the interest of the members. The association helps in furthering the objectives of the professional like sharing of knowledge, building standards, setting guidelines, research and publication etc. Examples of professional associations are:

Doctors: Medical Council of India
Lawyers: Bar Council of India
Chartered Accountants: Institute of Chartered Accountants of India
Company Secretary: Institute of Company Secretaries of India
Cost and Management Accountants: Institute of Cost and Management Accountants of India

Trade Associations - Trade associations are associations where members of the same trade form an association to protect the interest of the trade, to represent to regulators and government in one voice, to settle disputes and disagreements among members, to jointly promote the trade, to share knowledge etc.
Social Associations (NGOs, Alumni Association, Religious Association) - There are lot of social associations where people with common social objectives come together and form an association. These include Non-Government Organizations, religious associations, Social associations and alumni associations.
Association of Homeowners or Residents Welfare Association - Homeowners / flat owners / land parcel owners at time come together to form an association to protect their common interest and to manage common or shared infrastructure of the society. We have discussed this kind of associations here: Housing Society
Employee Association - Associations of employees or employee unions created with the objective of welfare of the employees, to protect the interest of the employees in an organization and for various cultural and recreational purpose.
Levels in Associations
Associations not only have a national level body or association but have elected body at state level, city level, region level and even at international level. For example: Doctors in India have Medical Council of India as the national level body. Then they have Delhi Medical Council and Maharashtra Medial council which are state level councils. Even at the international level there is The World Medical Association representing and regulating all doctors of the world.
Even among the doctors there are various specialization like gynaecologist, cardiology, orthopaedic, gastroenterology, urology, dermatology etc. for each specialization there is a different association of doctors at international, national, state, regional level. For example: Cardiological Society of India, American Gastroenterological Association etc.
Election Frequency
Tenure of these elected Associations generally range from 1 to 3 years and hence elections are held every 1 to 3 years. Tenure is determined by the bylaws / article of association of the association.
Challenges in Association elections
Low member turnout

Associations generally have an awfully bad track record when it comes to voting percentage. Many associations have voting percentage as low as 10%. This is due to following reasons:

Limited number of booths: Associations generally do not have enough number of booths across the country and expect all members to visit the association office on election date to vote. This is the biggest reason why voter turnout is exceptionally low in associations. Many a times, the existing management intentionally make it difficult for members to vote so that they can maintain control over the association.
Members are not informed about the election date and process
Database of members is not properly maintained or updated
Members are not much involved in association activities and do not take association elections seriously
Many members do not pay the membership fee regularly and hence not allowed to vote

One small group of members controlling the association

It is a common phenomenon across the country that small group of people control the association and rest of the members feel alienated. The small groups work towards protecting their own interest and not of the members in general. At times interest of the small group is in conflict of the larger group. This leads to lack of trust among members towards their own association.

Many times, this lack of trust lead to formation of competitive groups and associations or infighting in the association. It may also lead to disillusionment amongst some members who stop participating actively in the association.

Lack of transparency in election process

Most of the associations are self-regulated and not answerable to any regulator for the election process. In such organizations due to various reason including - a. cost, b. lack of experience or knowledge of election management, c. limited time (as management committee members are generally working pro-bono) and d. vested interest, the election management is not of remarkably high quality.

Members generally complain of problems like shoddy preparation of voter list, lack of communication to members about the election, errors in vote counting, election process is tightly controlled by few people who might themselves be standing in the election.
SOLUTION: How to ensure high member participation in association elections and how make the election process transparent?
ONLINE VOTING is one simple solution to all the problems faced by association related to voting. Online voting ensures high member participation at very low cost, with limited effort and is 100% secure and transparent. Right2Vote provides online voting platform which is best suited for association elections.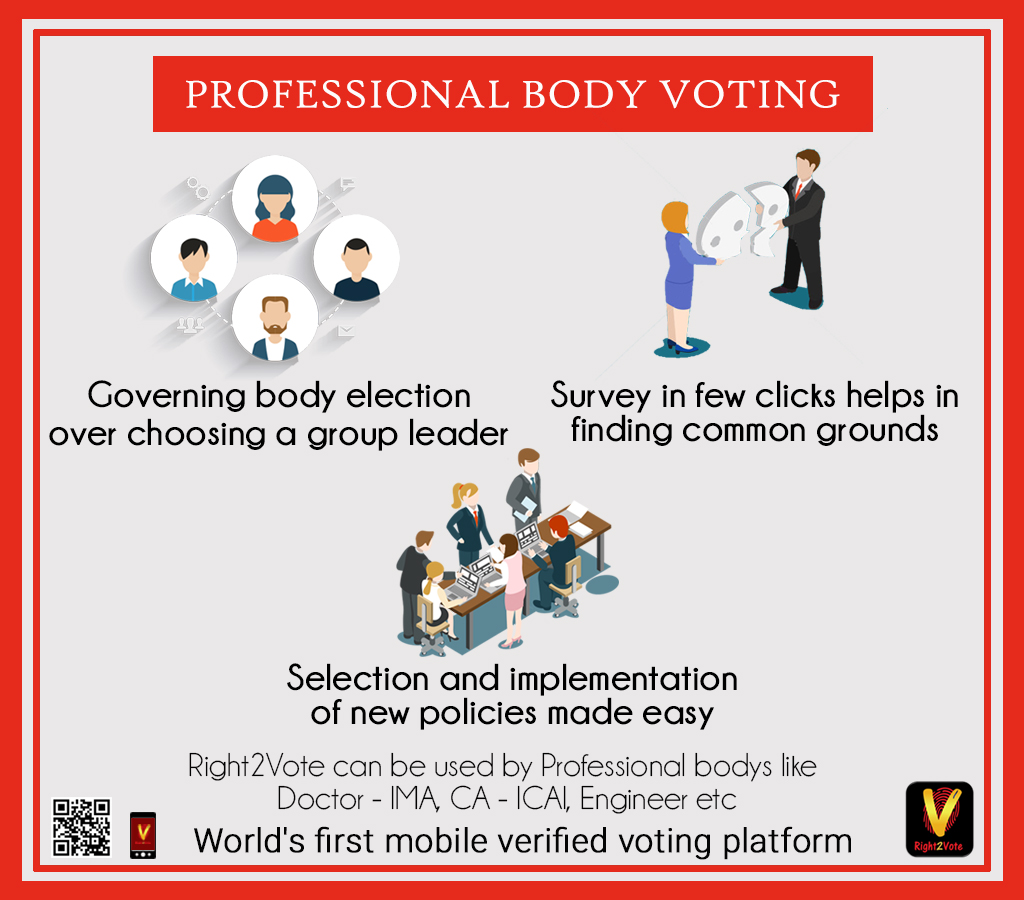 Why you should choose Right2Vote's eVoting platform for Association Elections:
Tested, Certified and Approved by Government of India

Right2Vote Infotech Private Limited is a government of India approved eVoting platform. Right2Vote is tested and certified by Standardization Testing and Quality Certification Directorate (STQC) under Ministry of Electronics and Information technology (MeitY), Government of India.

Right2Vote is also approved eVoting agency by Ministry of Corporate Affairs (MCA), Government of India.

Link to relevant certificates: Government Approval and Certificates

Used and loved by major associations

Right2Vote has successfully conducted elections for several associations across the country. It includes:

Professional Associations

Engineers - Consulting Engineers Association of India (CEAI)
Indian Association of Structural Engineers
Pilots - Executive Pilot's Association (EPA)
Doctors - Indian Academy of Paediatrics Tamil Nadu State Chapter (IAP TN)
Indian Arthroscopy Society (IAS)
Indian Prosthodontic Society (IPS)
Indian Society for Paediatric and Adolescent Endocrinology (ISPAE)
Movement Disorders Society of India (MDSI)
Scientists - Indian Society for Particle Accelerators (ISPA)
Draughtsman - All India Mes Civilian Draughtsman Association
Actuaries - Institute Of Actuaries Of India

Trade Associations / Trade Unions

Solar projects - International Solar Alliance (ISA)
Realtors - South Metrocity Association of Realtors (SMART)
Rubber dealers - The Indian Rubber Dealers Federation (IRDF)
Council of Monuments and Sites India (ICOMOS India)
Hospital administrators - Academy of Hospital Administrators (AHA)
Doctors - National college of Chest Physicians of India (NCCPI)
Chemists - The All India Organisation of Chemists and Druggists (AIOCD)

Social Associations (NGOs, Alumni Association, Religious Association)

The International Association of Lions Clubs: District 316 A, 321B1
Rotary Club: Bangalore, Vikas Puri
Alumni Association of Indore School of Social (AAISS)
Dombivali Better Environment System Association (DBESA)
Indian Institute of Technology (IIT) Delhi Alumni Association
New Delhi YMCA

Residents Welfare Associations

Bren Edge Waters Apartment Owners Association
Embassy Pristine Apartment Owners Association
Spectra Palmwoods Apartment Owners Association
South City Apartment Owners Association
Sai Peace and Prosperity Apartment Buyers Association
Prestige Ozone Home Owners Welfare Association
Kolkata Uniworld City Apartment Owners Association
IRIS Court Flat Owners Association
Apex Association of Lavasa Property Owners

Employees Association / Employee Unions

Executive Pilots' Association (EPA)
Air India Express Aircraft Engineers Association (AIEAEA)
Retired Officers Welfare Society (ROWS) (Indian Oil Corporation)
NTPC Apex Association
NTPC Executive's Association of Ramagundam
Uttar Pradesh Power Corporation Limited (UPPCL) Employee Trust
Uttar Pradesh Rajya Vidyut Utpadan Nigam Ltd (UPRVUNL) Employee Trust
Junior Chamber International India (JCI India)

Secured and Transparent

Right2Vote's eVoting platform is a secured and transparent platform. It has many security and transparency features including:

End to end encryption
OTP based authentication
Two factor authentications
Voter receipt
Audit trail
Vote record
Voter selfie
Geo tagging
Geo fencing

Feature rich, flexible and easy to use platform

Right2Vote's online voting website and app is very feature rich and can be customized to specific requirements of the association.Different associations have different election rules. Right2Vote has solution for all kind of election.Most associations find these features extremely useful:

Secret ballot
Audit Trail
Voter receipt
Result post poll close
Team election
Multiple post in single poll
Candidate picture on the ballot
SMS / Email based invitation
SMS / Email based reminder
Option to vote form website, mobile and app (android and iOS)
Voting from anywhere in less than a minute
Automated counting and instant result in PDF and excel format
Maker - Checker - Scrutinizer

Link to complete feature list - Features

Cost Effective

Right2Vote eVoting software is also very cost effective. The charges start from Rs. 10,000 only for up to 200 voters, plus Rs. 25 for each voter above 200 voters. Please contact Right2Vote team at contact@right2vote.in for more details.

On call and email support

Unlike other platforms, Right2Vote provide on call and on email support to election officer as well as the voters. Right2Vote's mission is to ensure each voter gets his right to vote and nobody is denied his right to vote.
Frequently asked questions
Is online voting in associations allowed as per Indian laws?

Government of India via Ministry of Corporate Affairs (MCA) has made online voting mandatory for large associations registered as Companies including Chapter 8 companies with more than 1000 members. Detailed regulation is available here: Notification

For associations less than 1000 members it is not mandatory but recommended.

What are the benefits of online voting in an association?

Online voting has many advantages over paper ballot voting. This includes:

Higher voter turnout
Cost saving
Time saving
Effort saving
Better security
Full proof authentication
Automated and instant result

How much time should be provided to voters for voting?

We recommend keeping the voting window open for 24 hours to 72 hours.

By keeping the window open for minimum 24 hours, you can ensure that international voters are able to participate without any time zone related difficulty.

(Note: For associations covered by MCA notification, has to follow the guidelines provided in the notification - Notifications)

What is Secret ballot? Is it applicable to associations?

Secret ballot is a feature where individual voters vote preference is kept secret. Only total vote count of each candidate is provided in the result. This is to avoid any kind of coercion or pressure on voters.

Applicability of secret ballot depends on the bylaws / article of association of the Association.

What all information is required by Right2Vote to set up online voting for the Association?

Following information is required for setting up the online election event:

Name of the organization and logo
Candidate list with name and photograph
Start and end date and time
Voter list with name of the voters along with email ID or Mobile number
GST details of the association including name, address and GST number for invoice purpose
Features required for the election and any specific requirement

How much time it takes to set up the poll?

We request clients to provide all above-mentioned information in a single email minimum 3 days before the election date.

Please provide the standard contract terms

The standard contract draft is provided here: Contract