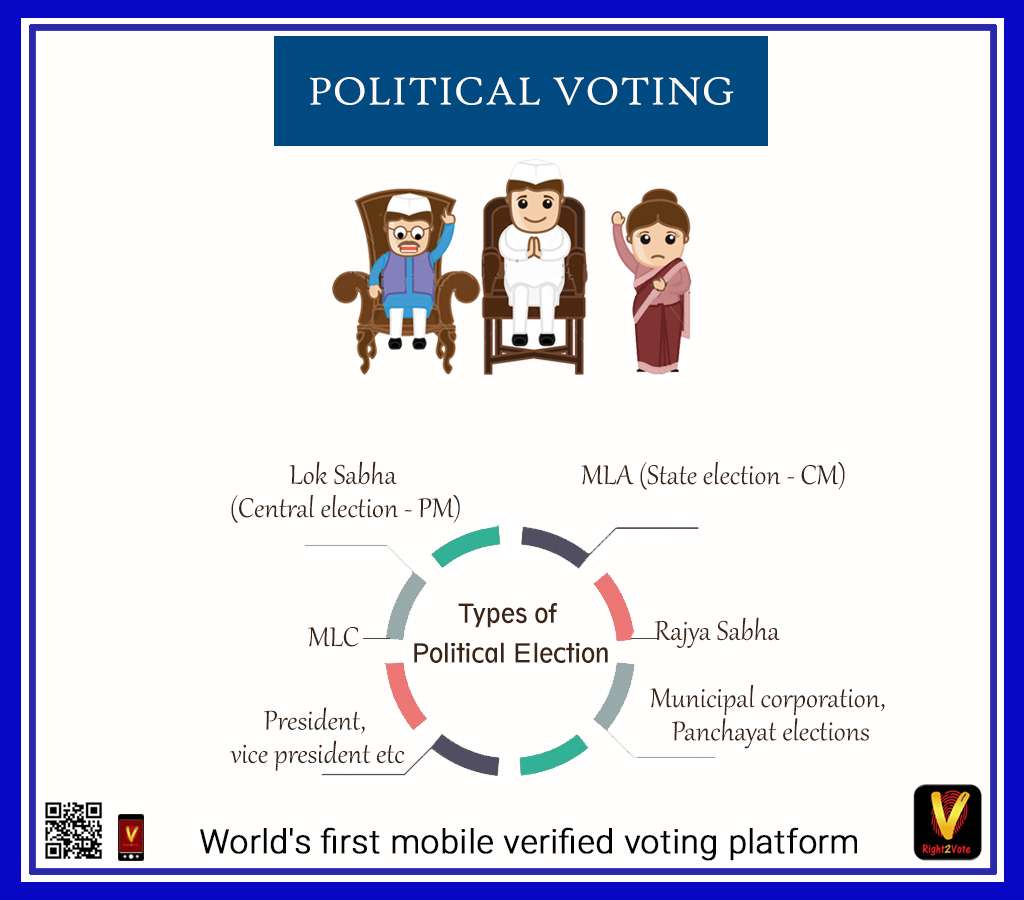 Every democratic nation in the world conduct elections regularly to ensure its citizen get the right to choose their leaders. There are 123 democratic nations in the world.
Indian national election or Lok Sabha election is conducted every 5 years and consists of 543 different elections. These 543 Members of Parliament (MPs) who are elected by citizens through direct voting, select their leader who becomes the Prime Minister (PM) of the Country.
Political voting does not mean just the national election. Most of the countries regularly conduct states and municipal elections too. For example: India has 29 states and 7 union territories. Every 5 years each of the state in the country goes for election. In state election citizen vote to select their own MLA (Member of Legislative Assembly) and all the MLA of a particular state election their leader or the Chief Minister (CM) of the state. Across states 4120 MLAs are elected by citizens in India. Which means 4120 separate elections.
Apart from the state election, each state has its own Election Commission which conducts local body election which consists of Nagar Nigam (Municipal Corporation), Nagar Parishad (Municipality), Nagar Panchayat and Gram Panchayat. These names vary based on the size of city, town or village. There are more than 24 Lakh village panchayats in India. In panchayat there are around 30 lakh representatives which means 30 lakh different panchayat election every 5 year.
In urban area - Nagar Panchayat and Municipal election are also well fought. In Maharashtra alone, elections are held for 4750 different seats across 192 municipal councils and 20 Nagar Panchayat. Apart from these there are Municipal corporations like BMC (Bombay Municipal Corporation) which alone has 227 seats. This year direct mayor election has also been introduced in few cities. In all across India in urban bodies around 1 lakh elections are held every 5 years.
Apart from these direct elections where the citizens vote directly there are many indirect elections. There are around 250 seats in the Rajya Sabha, which is the upper house in the Indian Parliament. Similarly, many states have upper house called the Vidhan Parishad, where around 500 members are elected. Major indirect elections also include President of India and vice president of India election which has very complex weightage system and Single Transferable Vote (STV) system of voting.
India spends more than $ 5 Billion (Rs. 30,000 crore) for the election of 543 Lok Sabha members every 5 years. Similar amount is spent in State elections. Local body elections again have similar budget. This year alone, Election Commission of India spent Rs. 15,400 crores to procure new EVM machines and VVPAT machines. Every state election commission procure their own EVM machines for local body elections.
We at Right2Vote provide mobile voting technology which can help manage these elections at fraction of cost, in very little time and in much more secure manner.