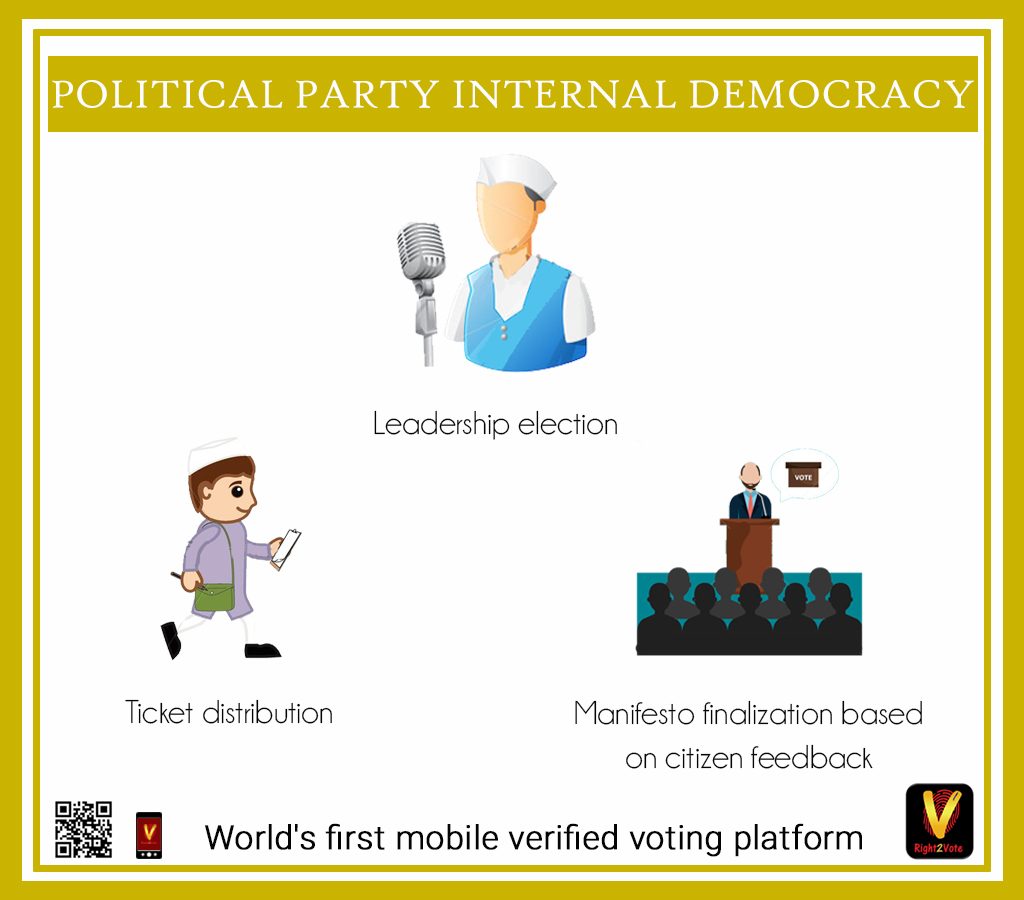 All political parties are also type of association of members. To govern the party, the party needs to elect from among themselves, members of the management committee. Election Commission of India also requires that all parties should have internal party democracy and elections should be held at regular interval to elect the management committee.
As members of political parties are spread across the country, it is very costly affair to have regular elections within the party. Right2Vote platform is a very effective tool to manage such elections and polls in a cost, time and effort efficient manner.
Each political party needs to hold many different kinds of elections. These includes:
National level management committee election
Each political party must have a management committee to manage it affairs. These management committee members are elected by the members of the political party from among themselves. Many family-run political parties do not follow a democratic process. However, as per the guidelines of Election Commission of India (ECI), all parties must maintain internal party democracy. Therefore, each political party end up having the internal elections regularly. However, many of these internal elections are sham and candidates standing in the elections is dictated by the party supremo. This reduces the trust of members and the regulator on the internal democracy process. Right2Vote's online voting platform can help make these elections more transparent, and efficient.
State level management committee election
National political parties present in several state need to have separate state team to focus on elections and management of party at state level. Again, political parties being association of persons, needs to elect these state level representatives among themselves and election commission guidelines state that these appointments should be done in democratic manner. It is common in political parties that the national management committee select the management committee at state level.
Online voting platform of Right2Vote can help make these elections more democratic, transparent and efficient.
District level management committee election
Similar to the national committee and the state committee, political parties need management committees at district level, municipal level, panchayat level etc. Most political parties do not have a very democratic set up at these levels and appointments are dictated by the state or central leadership.
Right2Vote's eVoting software can help political parties in electing these representatives in a much more transparent, efficient, and democratic manner.
Voting among MPs to elect the Prime Ministerial Candidate
In India and many other countries, the voters do not elect the prime minister or the president directly. Voters elect the representative of their own district, what we call Member of Parliament (MPs) in India and then all the elected MPs go on the elect the Prime Minister from among themselves.
Most parties elect their prime-ministerial candidate in advance of the election so that they can project the prime minister face during election campaigns and help voters make a more informed choice. Election of the prime-ministerial candidate is supposed to be a democratic process and Right2Vote's online voting technology can help in making this process transparent, efficient, democratic and substantially more participative.
Voting among MLAs to elect the chief ministerial candidate
Similar to PM candidate, a political party need to elect their chief-ministerial candidate for each state election. The chief minister is elected by the MLAs among themselves after the election, however, political parties need to project their chief-ministerial candidates during the election campaign. Right2Vote's online voting software can make this process very transparent, efficient, secure and democratic.
Voting in Annual General Meeting
All political parties have annual general meeting to discuss various matters including the policies, plans, performance, accounts, management among others. AGM agenda might include elections of management committee, voting on regular matters like accounts and special items like investment in new party headquarters etc.
Right2Vote' mobile voting technology can help making these AGMs very efficient, transparent, participate and democratic.
Voting on extraordinary items
Many times, political parties must hold extraordinary meetings or special general body meeting to discuss special items. These meetings not only require participation of members but also require voting on special items.
Ticket distribution
In every party ticket distribution is a nightmare. Ticket distribution is trigger for internal fights and resentment. Many times, critical party members leave the party and join other parties if they don't get the ticket. Also, many partly members stop actively participating in party matters if the candidate of their choice does not get the ticket. Hence, ticket distribution is a very sensitive matter and it's in the interest of the political parties to make a transparent ticket distribution by selecting the candidate with best potential.
Right2Vote's mobile voting technology can help political parties take proper feedback from citizens and members before distributing the tickets. Transparency of ticket distribution based on citizen and member feedback will also curtail resentment and infighting. It will force candidates to show better work on the ground to earn ticket rather than current practice of sycophancy and groupism.
Manifesto finalization and Citizen feedback
During the election campaign, political parties must announce their manifesto or what they aim to do once they get elected. Manifestos are very critical component of any election campaign and citizens tends to vote for parties who promises to meet their agenda and aspirations.
Political parties would be better off taking initial feedback from citizens before announcing the manifesto to make sure that it is to the liking of their targeted vote bank. Many times, these manifestos can backfire as certain sections of the voters might not appreciate specific agenda or feel threatened by it.
Right2Vote's online polling technology can help political parties collect the feedback from citizens in a very structured and efficient manner.
Right2Vote's polling platform and polling requirement in political parties
As explained above, political parties need to conduct different types of elections and polls. In offline set up, political parties must organize physical meetings to collect opinion and feedback from members and citizens. Organizing these meetings are very costly and time consuming. Political party members need to travel from across the country to attend these meetings. Political parties have to spend millions to organize and host these meetings. Participation in these meetings is very low due to requirement of physical presence. Hence any voting, resolution, feedback or poll in these meetings has limited participation of members.
Right2Vote's mobile voting technology and eAGM platform can help members to participate in these AGMs, EGMs and GBMs remotely through mobile phones. This can substantially improve participation in these meetings and lead to better and more democratic decision making. Political parties will not only save lot of money but will be able to manage these polls and elections in very time efficient manner and with substantially higher participation.