4 Benefits of Online Annual General Meeting (AGM)
---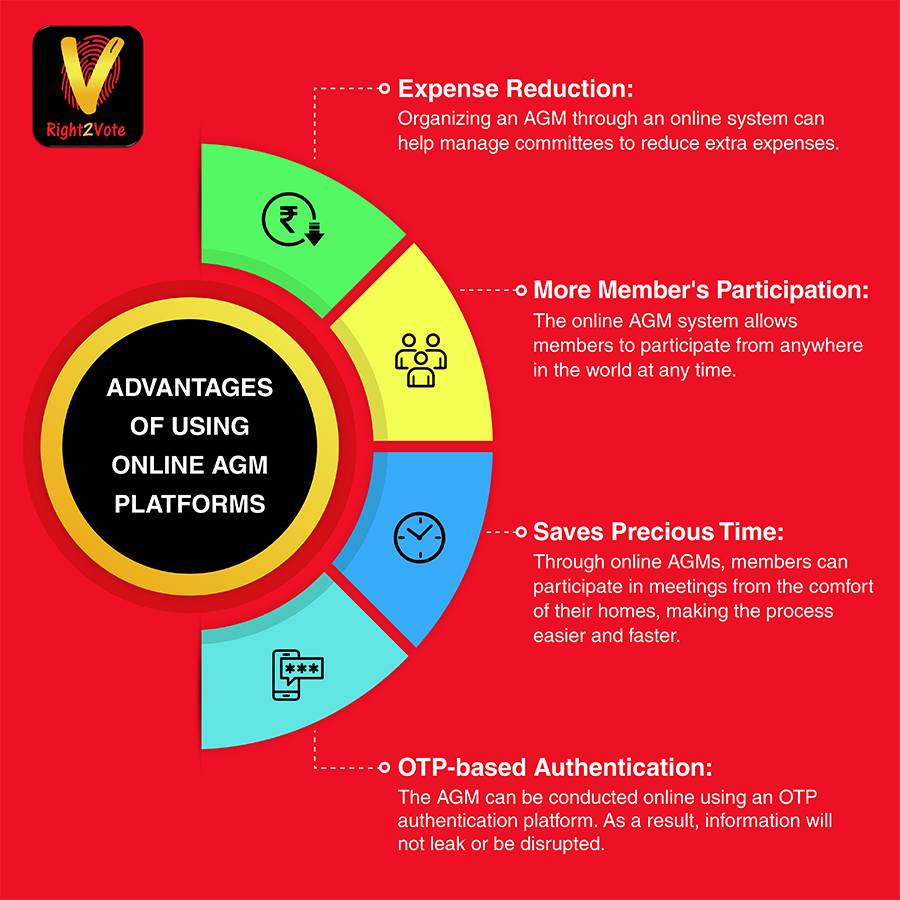 In the wake of the global pandemic, most significant meetings and events are taking place online. In order to transition from an in-person conference to a virtual one, better planning and execution are required. The lack of interest and disconnection that occur in online meetings are different from those that occur in person. There is often a disconnection between the audience and the presenter when a meeting does not have an appropriate virtual medium or is poorly planned.
It is imperative that meetings do four things: make decisions, influence others, solve problems, and strengthen relationships. An online AGM must feel like a collaborative effort between the viewers and audience members. In order for a successful meeting to be effective, it is important to design a process that is both user-friendly and engaging.
Online AGM Platforms:
In order to revolutionize and make this process fully dependent on technology, it is an excellent idea to implement an online platform for completing annual general meetings. However, choosing the right platform is equally important.
AGMs should be held using unique links with features such as screen sharing and presentations. In addition to active internet connections, hotspots and routers should provide the necessary backup. Members should be allowed to keep their video on to prevent any fraud issues and there shouldn't be any safety or security concerns.
All members, who aren't well-versed in technology, should be able to use the platform without any problems.
4 crucial advantages of using Online AGM platforms
Reduces the expenses:
Arranging an AGM requires a decent budget. From looking for a suitable place (a five-star hotel, or any private place) to appointing men to do necessary planning and execution, everything demands a certain amount of money. But online AGM can help the managing committees to reduce these extra expenses and create a system that can arrange an annual general meeting without spending a lot. Through the necessary platform, the meetings can happen in a virtual space where the members can take part in the process from their own houses. It can be a blessing for people who reside in different states and couldn't manage to take part in the meetings before.
Increases rate of member's participation:
Due to the fact that face-to-face AGMs were traditionally held on specific dates and places, many members missed out on these meetings due to health-related issues, distance, or simply because they were unavailable. Several critical issues remained unaddressed because many members missed these meetings. By using an online AGM system, members can participate in these meetings from anywhere in the world at any time. As a result, the annual conference will become more successful due to an increase in member participation.
Saves precious time:
Scheduling an annual general meeting takes up a lot of time in arrangements. From deciding on the location to members traveling from various parts of the country, everything requires a lot of time. It affects the work schedule of the members as they compromise on work to come to the location to attend the meetings. With the help of online AGMs, the members can participate in the meetings from the comfort of their own houses, making the entire process easier and quicker. The members don't need to travel for so long and compromise on their work. People can switch in and out of meetings within seconds, making the entire process easy to follow and without time-wasting.
OTP-based safe authentication:
Video conferencing platforms have the major disadvantage of letting anyone join the meeting who has access to the link. Many organizations have experienced embarrassing situations as a result of easy access to the platform. With Right2Vote's online voting platform, members can conduct an online AGM using OTP authentication. This eliminates any risk of information leaking or disruptions. These types of annual meetings can be arranged safely and securely with the help of such authenticated online platforms.